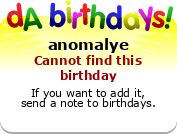 Favourite photographer: My dad!



Favorite cartoon character: I love them all~.



Personal Quote: "Perhaps = Possibility."
because "perhaps" is like saying "if."

Just some stuff I feel like saying:

- Watching fancam vids: I CAN'T DO IT. IT MAKES ME FEEL WAY TOO MUCH LIKE A STALKER.

- Whenever I see Henry Lau simultaneously play his violin and dance, I think of Mairead Nesbitt.



- I see similarities between Melochin (dancer on Nico Nico Douga) and Eunhyuk (Super Junior). Is that just me?

- If I ever saw one of my favorite idols/celebrities randomly walking on the streets one day (which would, BTW, never happen 'cause I live in a rather ghetto town), I don't think I'd have the courage to approach them directly as a fan. But, I think I'd still want to have some sort of interaction.

- I have this awfully embarrassing fantasy where I do, actually, gather up the courage to be friendly, but then say farewell without snapping any pictures or having them sign anything. If they asked, I would just smile and say "S'okay. I still have the memories, and that's all I'll ever really need."

How cheesy, right?